December 3, 2020
We did it again! Thanks to MEDIA funds our film platforms for children in hospitals will now be available in 6 EU countries!
Our mission to give ill children in hospitals and revalidation centers access to festival and quality films and exclusive European children's films online, continues thanks to MEDIA funding in 2021.
Our 3 organisations joined forces with 3 new partners from Il Nuovo Fantarca, Packmagic and Kinodvor and increased significantly covered EU territories: Italy, Spain, Slovenia, Croatia, Belgium and Sweden.
Our goal is to offer, working closely with festivals and distributors, European AV works on digital platforms in 6 countries and its respective languages through a network of nearly 200 hospitals by following step by step plan and using a mentoring system within team organisation.
Please stay tuned for some exciting news!

June 6, 2019
Brainstorm in Zagreb, Croatia
Representants from BUFF Film festival and JEF visited Sedmi Kontinent in Zagreb during Animafest to brainstorm about the future for Film In Hospital project. During the visit Sedmi Kontinent staff arranged a visit to one of their hospital screenings
.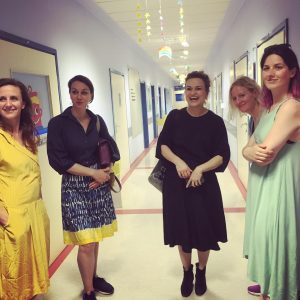 December 19, 2018
What is Film In Hospital?
July 23, 2018
Brainstorm in Belgium
Representants from Sedmi Kontinent and BUFF Filmfestival are visiting JEF's office in Antwerp to brainstorm about the future for Film In Hospital project.