July 6, 2022
Press conference of Film In Hospital in Bari, Italy
On 5th July we presented the Italian platform of Film In Hospital at the press conference at the Palazzo della Regione Puglia (Bari, Italy). Rosa Ferro, the state coordinator of the platform, was accompagnied by Ludovico Abbaticchio, Guarantor of children's rights of the Puglia Region, Rosa Barone, Councilor of Welfare of the Puglia Region, Grazia Di Bari, Councilor of Culture of the Puglia Region, Andrea Coluccia, head of the Creative Europe Desk Italy MEDIA – Bari, Maria Iaia, director of the Monte San Michele Didatic Circle – referent of School in Hospital and Giuseppina Caggiano, Associate Professor of Hygiene at the University of Bari and Director of the II level University Master School in Hospital.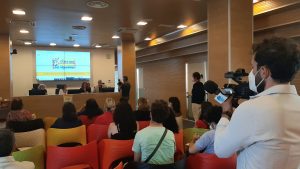 May 25, 2022
Film in Hospital granted another two years by Creative Europe MEDIA!
Unique films, generating more film literacy for children in hospitals  throughout Europe!
In May 2022, European MEDIA funds approved the international Film in Hospital project for two more years. Thanks to this approval, Film in Hospital can keep striving to grant ill children in hospitals and revalidation centers access to exclusive, festival-quality films and educational materials. The 6 European partners* are happy to continue providing these children and youngsters with (film) culture. That is their fundamental right.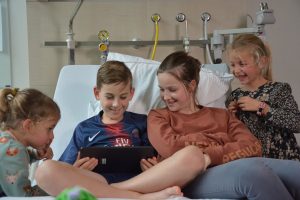 March 31, 2022
Little plaster and other stories in Italy
Have you ever imagined how many characters can a little plaster turn into?
Watch the video and a sea of discovers await you together with other little characters.
Little plaster and other stories was created by 30 children in hospital, supported by their teachers of School in Hospital in Bari, Lecce, Taranto, Foggia (Italy) during a workshop on line organized by Il Nuovo Fantarca for Film in Hospital project. The workshop was on line because of pandemic and focused on stop motion tecniques using a box as a set, a smartphone as a camera and a free app for stop motion. Giving life to a plaster or to a surgical mask or to a gauze is an amazing, relaxing imagination game for each child.
November 3, 2021
Meeting in Antwerp, Belgium!
The last week of October, all partners (including the new ones) finally met in Antwerp for three days of interesting workshops and meetings to prepare ourselves for a new year of Film in Hospital! We shared ideas and perspectives on the future of our dear project. Now, we are ready to broaden our scope even more to connect with children and youngsters in hospitals and present them entertaining, qualitative and educational films and games on our online platforms.
October 14, 2021
Press conference of Film In Hospital at the Sitges Film Festival
On 14th October we presented the Spanish platform of Film In Hospital at the industry forum of the Sitges Film Festival. Alfred Sesma, the state coordinator of the platform, was accompanied by Edita Bilaver Galinec, coordinator of the project at the European level, Xus Labordena, manager of citizen management of the Catalan Health Service and María Ángeles Aceituno, assistant director of nursing at the Hospital Infantil Vall d'Hebron.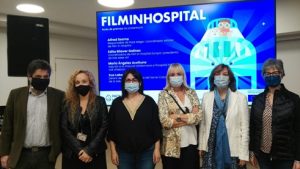 March 3, 2021
EACEA workshop and presentation
On 9th and 10th March 2021, a Media unit at EACEA organized an online meeting for coordinators of projects selected to be co-financed under the scheme Promotion of European audiovisual works online (Call for proposals EACEA 23-2019). 
Our project Film for kids at hospitals was one of the selected projects that was presented online through a brief power point engagement and has received many attention and follow – ups from interested journalists and possible VOD partners.
For that occasion, EACEA has prepared a booklet containing basic information on all selected projects, and has facilities in an efficient manner for the interaction between all beneficiaries and supported their stronger collaboration in the future.  
This project dissemination occasion resulted also in two interviews with our project coordinators: Cineuropa  and Filmneweurope.com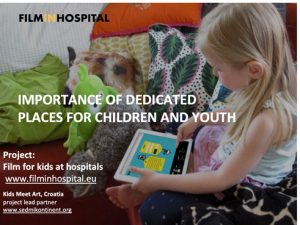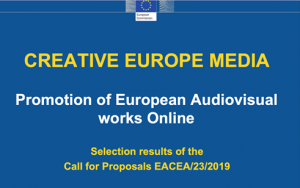 February 20, 2021
Film boxes in Belgian hospitals and revalidation centres
Within the Film in Hospital project, JEF has created interactive film cubes for children and youngsters who are staying in Belgian hospitals. These beautifully illustrated cubes contain QR-codes that lead participants to an online mediaplatform. This platform contains (short) movies and games to entertain children during their hospitalization. In this way, young people creatively encounter new apps, games and film techniques. The cubes are given for free to any interested Belgian hospital. 
Check this promotion video to discover the film cube and the way it works; very simple though attractive for children of any age.
December 15, 2020
Presentation of our new partners
Our new partners will bring added value to our project transferring their knowledge and sharing network for distribution activities, for connecting to VOD platforms, for creation of extra material and working with children in those special conditions.
Pack Magic is an initiative of Drac Màgic, a cooperative in Barcelona that, since 1970, has been dedicated to the study and dissemination of audiovisual culture and its use in various educational, social and cultural activities. They have experience with VOD platforms, in fact are part of the platform of the Public Libraries Network of Catalonia and Basque Country where they offer films to their members and they work together with Filmin, the most important independent commercial VOD platform in Spain. There they have their own channel (with a plan to include the Films in Hospitals' contents to their Filmin's channel) and already worked with several associations of sick children and with the health Department of the Catalan regional Government. 
Coop. Soc. Il Nuovo Fantarca onlus arl was founded in Bari (Italy) in 1999.  Its aims center around promoting human rights and social welfare, developing a nonviolent culture, and promoting a culture of legality, social justice, collective memory and self-empowerment. These activities are implemented through the experimental use of video art therapies and films by setting up every year the International Festivals of Cinema (feature films and docs) for and with Children and Teens, and through different activities of media literacy. It works in schools, local social gathering centers, parishes, juvenile justice centers and juvenile penal institutions, roma camps, refugees' camps. Their experience in working with children in difficult contexts, such as youth prisons/institutions is very valuable and gives a context to investigate further the project to a new audience with limited mobility.
Kinodvor is the cinema with 90-year-long tradition in Ljubljana, the capital of Slovenia, and was in 2008 transformed into a city public institution. At that point, Kinobalon film education programme was founded. Kinodvor is committed to screening quality and more demanding film production and providing film education. Annually, 40.000 of visitors attend three different programmes for young audiences: school programme, family programme and teen programme. Kinodvor regularly organises international conferences and is an active member of Europa Cinemas network and European Children Film Association. Kinodvor received two prestigious Europa Cinemas Awards: Best Young Audience Activities Award (2010) and Best Programming Award (2019). Kinodvor has collaborated with the city main hospital at the University Medical Centre Ljubljana and its pediatric department since 2013, which will give us a new insight into the project from the point of view of an exhibitor.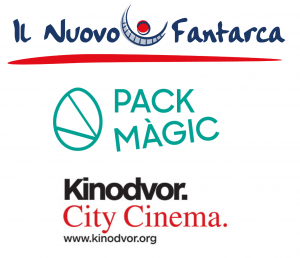 December 3, 2020
We did it again! Thanks to MEDIA funds our film platforms for children in hospitals will now be available in 6 EU countries!
Our mission to give ill children in hospitals and revalidation centers access to festival and quality films and exclusive European children's films online, continues thanks to MEDIA funding in 2021.
Our 3 organisations joined forces with 3 new partners from Il Nuovo Fantarca, Packmagic and Kinodvor and increased significantly covered EU territories: Italy, Spain, Slovenia, Croatia, Belgium and Sweden.
Our goal is to offer, working closely with festivals and distributors, European AV works on digital platforms in 6 countries and its respective languages through a network of nearly 200 hospitals by following step by step plan and using a mentoring system within team organisation.
Please stay tuned for some exciting news!

June 6, 2019
Brainstorm in Zagreb, Croatia
Representants from BUFF Film festival and JEF visited Sedmi Kontinent in Zagreb during Animafest to brainstorm about the future for Film In Hospital project. During the visit Sedmi Kontinent staff arranged a visit to one of their hospital screenings
.