Film in Hospital outside Europe!
Film in Hospital wants to increase the knowledge about its project in the EU and beyond. In that way, we augment the sensibility of the AV community and the general public on the topic of inclusion of young audiences in vulnerable conditions.
In September, JEF participated with the Adana cinema heritage project in Turkey. At this closing conference of the project, they had the opportunity to present the hospital project as a good practice on cinema culture. Iris Verhoeven presented the project twice, once on the international expert networking day and once on the regional conference on common cultural heritage.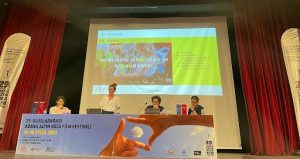 In November, at the Kineko International Film Festival in Tokyo (Japan) Iris Verhoeven, director of JEF, had the chance to exchange experiences on the hospital project in Europe. She had a meeting with MD Mureo Kasahara, executive director, and Rui Kondo, Public relations, from the National Center for Child Health and Development, a children's hospital in Tokyo.
The Belgian embassy was also present and we had a short meeting with Elisa Castaldo, minister-counsellor, deputy head of mission and Maki Nakamatsu, her assistant. In the festival brochure the project was mentioned and the director of the festival, Mitsuo Tahira is very excited to learn more about our European experiences.